Regular price
$128.00 USD
Regular price
Sale price
$128.00 USD
Unit price
per
Sale
Sold out
The Tiger Door Knocker is a true masterpiece for your front door. With its intricate and detailed design, this door knocker is sure to catch the eye of anyone who approaches your home.
Made from high-quality brass, the Tiger Door Knocker is strong and durable, able to withstand the wear and tear of daily use. And with our interchangeable system, you can easily switch out the tiger head for a different design to suit any occasion.
Whether you choose to keep the tiger design on display or switch it out for a holiday-themed option, this door knocker is sure to add a touch of character and sophistication to your home. Don't miss out on this shining example of form and function - order the Tiger Door Knocker today.
Installation is easy with our Interchangeable Door Knocker System.

Shipping

We've chosen DPD and Royal Mail to deliver all parcels, locally and internationally.

If you selected tracking (which is strongly recommended), a tracking number will be supplied when your parcel has been dispatched, letting you follow its every step from our door to yours.

Shipping times

UK — next day delivery, from time of dispatch
EU — 2-8 working days, from time of dispatch
USA — 3-6 working days, from time of dispatch
Returns & Exchanges

Our return and exchange policy for our brass door knockers and handles acknowledges that each piece is unique due to the small batch production process and post-production finishing in our Yorkshire foundry. As a small business, we design and cast all our products with care and attention to detail, and may still have some small imperfections due to the nature of casting in small batches. We embrace these variations as they add to the charm of our products and believe it is important to celebrate the beauty in the imperfections of life and nature.

However, if an item is damaged upon arrival or if you, our customer, are not completely satisfied with your purchase, we offer the following options:

Exchanges:

If you would like to request an exchange, please contact us first to check the availability of any replacement item, as we only cast in small batches and replacements may not be immediately available.

Refunds:

If an exchange is not a viable option and the product just isn't for you, please return it in its original packaging within 30 days of delivery. We will evaluate the item and, if it is in good condition, issue a refund for the purchase price, minus shipping.

Our products are crafted with care and attention to detail, and we take pride in every piece we create. We want our customers to feel just as proud when they display our products on their front doors and furniture around the world. We believe our products embody the beauty and charm that is unique to our foundry and we hope that our customers will appreciate and cherish the individual character of each piece.
Share
View full details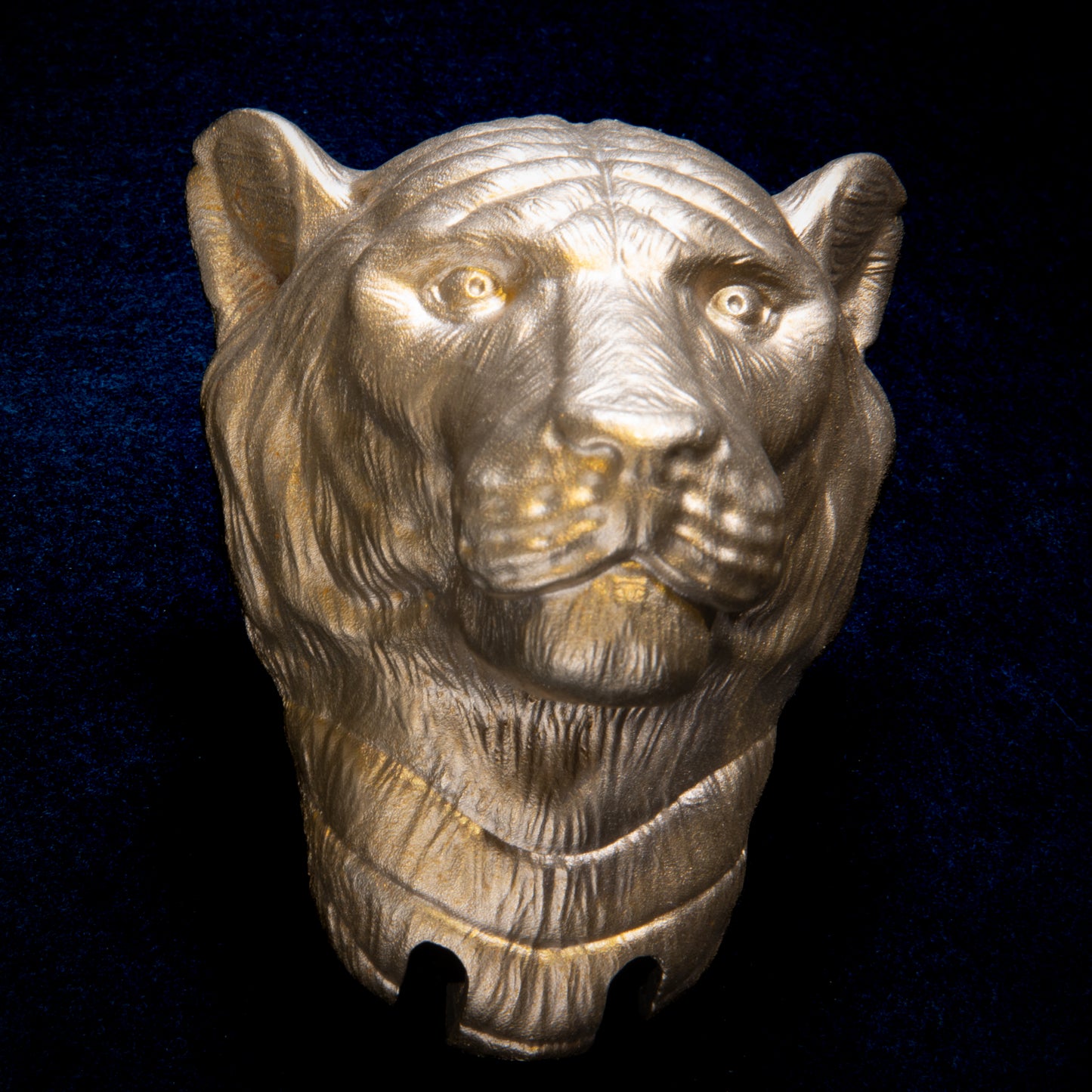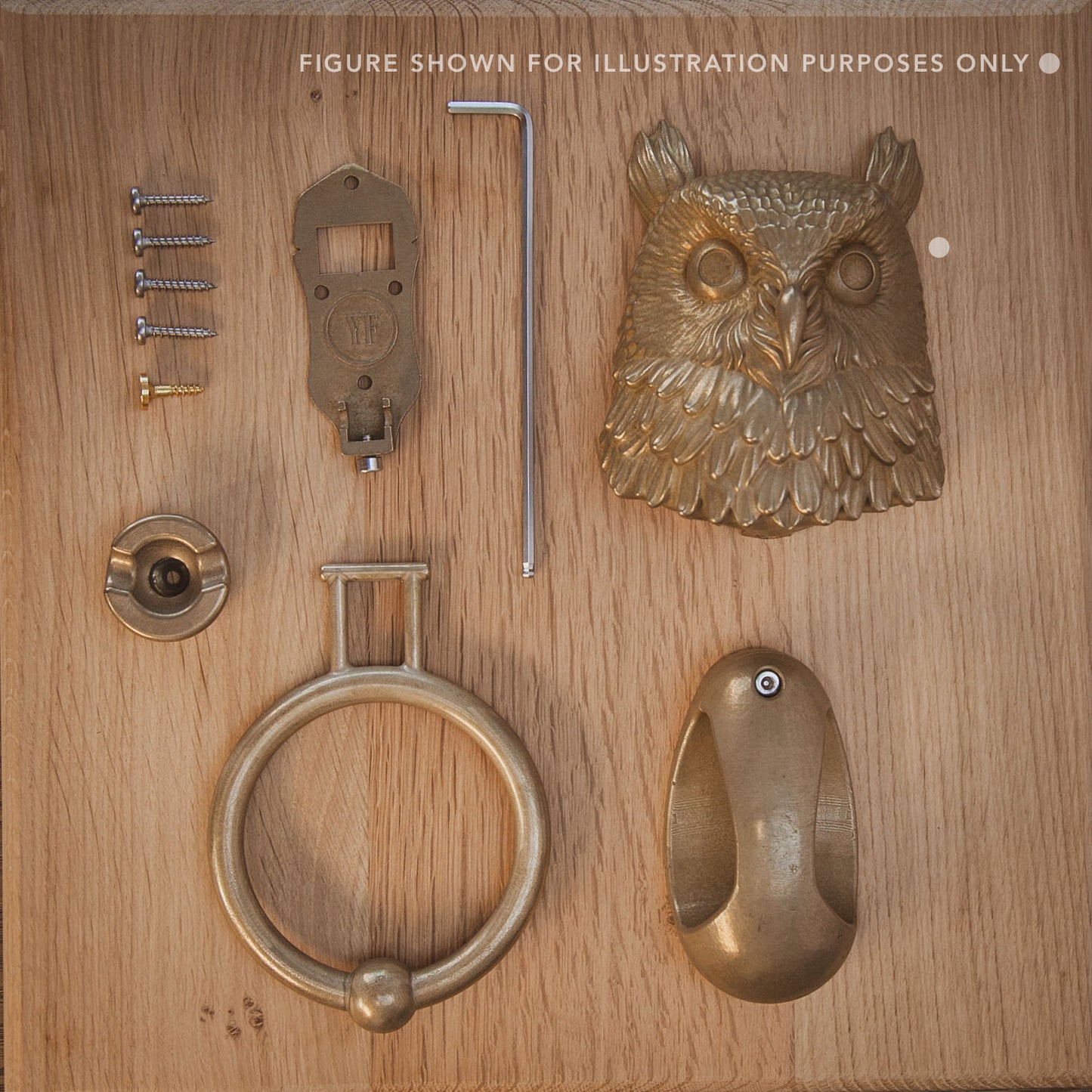 What is a Starter-Kit?
The starter kit includes everything you need to get started, including a backplate, knocker, banger, fixings, and a variety of interchangeable heads to choose from.
But that's not all! The kit also comes with a unique wreath holder that allows you to add a touch of holiday spirit to your door without damaging it with unsightly nails or complicated hanging devices. Simply swap out the head of the knocker with the wreath holder, and your door will be ready to showcase your festive decorations.
Installation is a breeze, with easy-to-follow instructions included.
.
Yorkshire Foundry Interchangeable Handcrafted Door Knockers
If we're honest, we all want everyone who visits our home to be left with one first impression: "Wow." 
Understanding this desire to stand out from your neighbours and elevate your home's kerb appeal with a beautiful, artisanally handcrafted knocker that is cast to last - we create just that. 
Our hand-made door knockers are beautifully realistic with high depth and contrast that screams quality while representing taste, craftsmanship and bold elegance. 
The Bald Eagle knocker symbolises strength, freedom and resilience - a bold and honourable moniker for any proud home. 
If this is your first Yorkshire Foundry knocker, you will need to pair your order with our starter kit, which includes a head of your choice, connected to an interchangeable base. This sets up so that every new season is an opportunity to easily replace your knocker with a new iteration of our fine, handcrafted heads. 
Winter on the way? Try our Bear Head. Christmas around the corner? We've got a Santa Head knocker for just the occasion. 
Want to display your heads even when they're not on the front door, as another is taking its turn? Our mount and integrated hook is an option you can pick up along the way that allows storage and display of your heads - along with keys and coats if you so choose!. 
There's a time and a place for mass-manufactured and mediocre products. We don't think that place should be the focal point of the front door to your home. We collectively share a passion for beautiful craftsmanship that homeowners can be proud of.
No matter what your choice, all our pieces are designed, cast and handcrafted in Yorkshire, England by Artisan Foundrymen on the edge of the North York Moors. 
We delight in welcoming you to the Yorkshire Foundry, which is built upon:
Uncompromising quality, artisanally handcrafted by our foundrymen in Yorkshire 
Values of honesty and authenticity reflected in our production and customer service 
Industry-innovating interchangeable design that allows you to vary the star of your front door between seasons 
100% recyclable products and packaging, as per our respect for the environment 
Realistic designs engineered for wow factor 
We delight in welcoming you to the Yorkshire Foundry, which is built upon
Uncompromising quality, artisanally handcrafted by our foundrymen in Yorkshire 

Values of honesty and authenticity reflected in our production and customer service 

Industry-innovating interchangeable design that allows you to vary the star of your front door between seasons 

100% recyclable products and packaging, as per our respect for the environment 

Realistic designs engineered for wow factor